The Last Great Champion
The sport of boxing is on life support, and one man will eventually have to pull the plug.
Whether you call him him Money, Pretty Boy, or just plain Floyd, there is only one real champion in the world of boxing. It is Floyd Mayweather Jr.
Unfortunately, Mayweather is more than the only champ, he's the last one.
Understand this. In boxing, there are many title holders. It seems that some meaningless belt exchanges hands at every Pay-Per-View fight.
Yet, there are few champions.
In its essence, boxing is more than a sport. It is the only sport that is also considered to be a science ("the sweet science") and an art form ("the pugilistic arts"). In Boxing, being a Champion is not a matter of winning or losing. It is a persona and a lifestyle.
Floyd Mayweather Jr. is indeed a champion; a great champion – the last great champion.
Through the years, we have seen the finesse of Sugar Ray Robinson, the transcending intimidation of Ali, the sheer brutality of Tyson, and now the human light show that is Mayweather Jr.
The great boxing champion must be the face of his sport after every win, and God-forbid, even after a loss. There's no such thing as becoming a champion in the ring. That title is earned in the hearts and minds of those who respect the sport of boxing.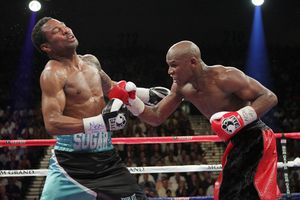 Mayweather has proven to be the elite fighter of his era, and has been the champion that the sport has needed in its dying days. He has continuously provided the flair, the style, and confidence that leaves no doubt about his legacy. When Pretty Boy Floyd walks into a room, there are no questions to be asked – the champ is here.
At this point, we need no more convincing. After last night's dismantling of Shane Mosley, Mayweather should probably hang up his gloves. He has a family and talent beyond his skills in the ring. He has fought every fighter who could legitimately challenge him, knocked great fighters like Oscar De La Hoya from their lofty pedestals, and etched his name in history above all others. But as the greatest boxer of our time attempts to pass the torch, he looks to find no one worthy to fill his footsteps. So he continues on the path himself, refusing to acknowledge that he is more than the end of an era, but the end of it all.
The Last Great Champ will fight on.
Someone will challenge Money Mayweather again, and the champ will not back down. He knows the truth. There is no next Floyd Mayweather Jr. There are no rising stars to have hope in, and no physical specimen that shows promise. All we have is our aging champion. The man who has never let us down is now 41-0.
He is the last great champion. Fight on champ, fight on.